Check out some of my music here: https://tantramoon.bandcamp.com https://amandarhowland.bandcamp.com https://norentrecords.bandcamp.com/album/spider-milk-batshit-silence-nrr72 and this is my brother's label, which has a bunch of great stuff including releases by our band Dead Peasant Insurance: https://sksk.bandcamp.com
Please feel free to contact me at arhowland108@gmail.com

2020 SHOWS
SOLO as ARH at Yellow House with SUNK HEAVEN, DUECE AVE and LEY LINES
March 5, 2020 9:00 PM, $5-10 bucks for touring artists
Yellow House–email amandarosehowland3@gmail.com for address
Okay, after playing out since 1994, *this* was going to be the year I would start documenting shows! Ok, all shows are cancelled for the rest of 2020, the above show was the only one.
But check this out: NICO
WITH SHADOWS AT MICHIGAN FLEA & SOUND BAZAAR 2020
MICHIGAN FLEA & SOUND BAZAAR
May 23, 2020
12pm-9pm
FREE
Virago
Sick Llama
Shadows
VOSP
Hogg
Bad User Experience
Slow Owls
Knox Mitchell
Steel Dangerous
Shingles
Stagnant Fluids
Yohimbe
FREE
Flea Market Vendors: Space is still available. Get in touch via FB Messenger or tympamumLLC@gmail.com
Tympanum is located at 4661 E. 9 Mile Road in Warren, Michigan.
Obviously, all events are on hold due to the pandemic. I don't have any streaming or video classes or performances at the moment, but I encourage you to check out what online classes your local yoga studio is offering as well as check out live performances people are doing from their homes or other online yoga, music and writing. I'll update if I develop any content like this and look forward to working with you when it is safe to do so. Stay safe and healthy!
Check back here for updates on upcoming shows and releases.
I play noise. My music is expressionistic–it feels like abstracted punk to me, but I don't know if anyone else would describe it that way. I use vocals, pedals, synthesizer, tape and guitar for my solo work, and I often collaborate with other people, especially the band Shadows, Murderous Vision and Ann B Klorox. My band, Dead Peasant Insurance (DPI) was formed in 2004 with my brother Wyatt and our friend Ryan—we've played with many great drummers over the years. I also played with hardcore/noise band Fascist Insect for a few years.
I like stuff that's both messy and fuzzy but also emotionally intense with bold melodies and rhythms breaking through abstraction and surprising overlaps, like the musical equivalent of the range between fauvist and abstract expressionist paintings.
For me, performing is ritual and recording and producing releases is like painting that is experienced fluidly through time. The same source moves me when I write, perform, edit releases, paint, etc. Hazy blue images, loving red stabs.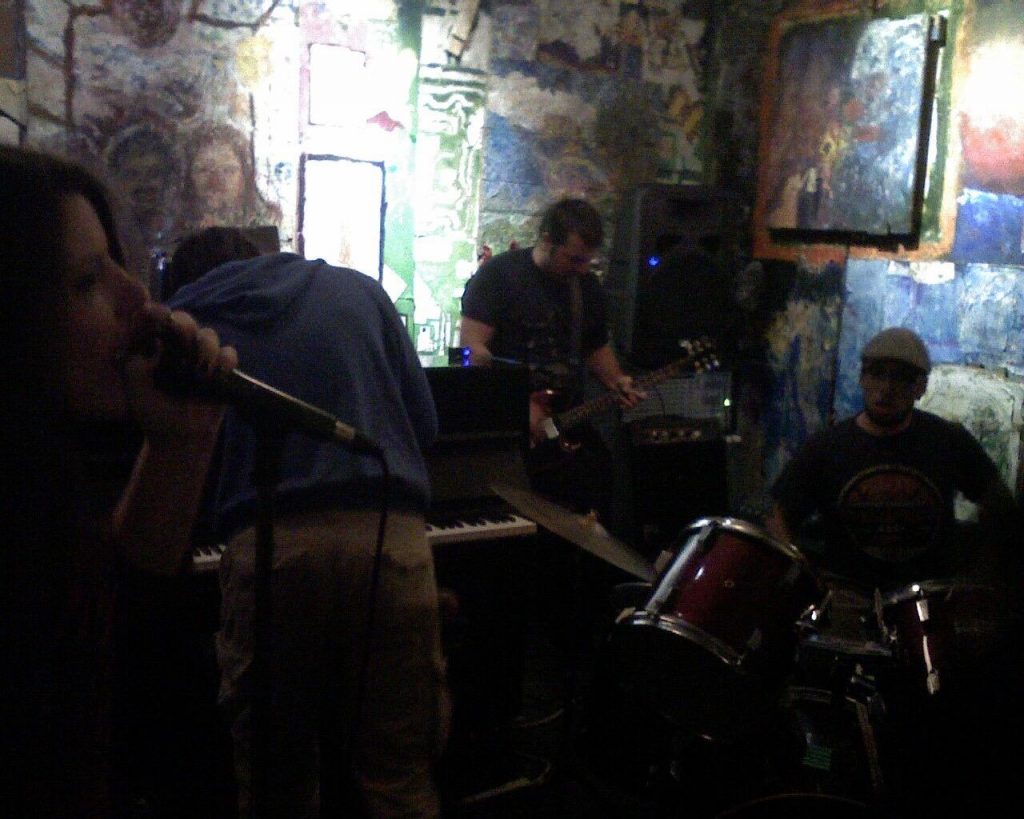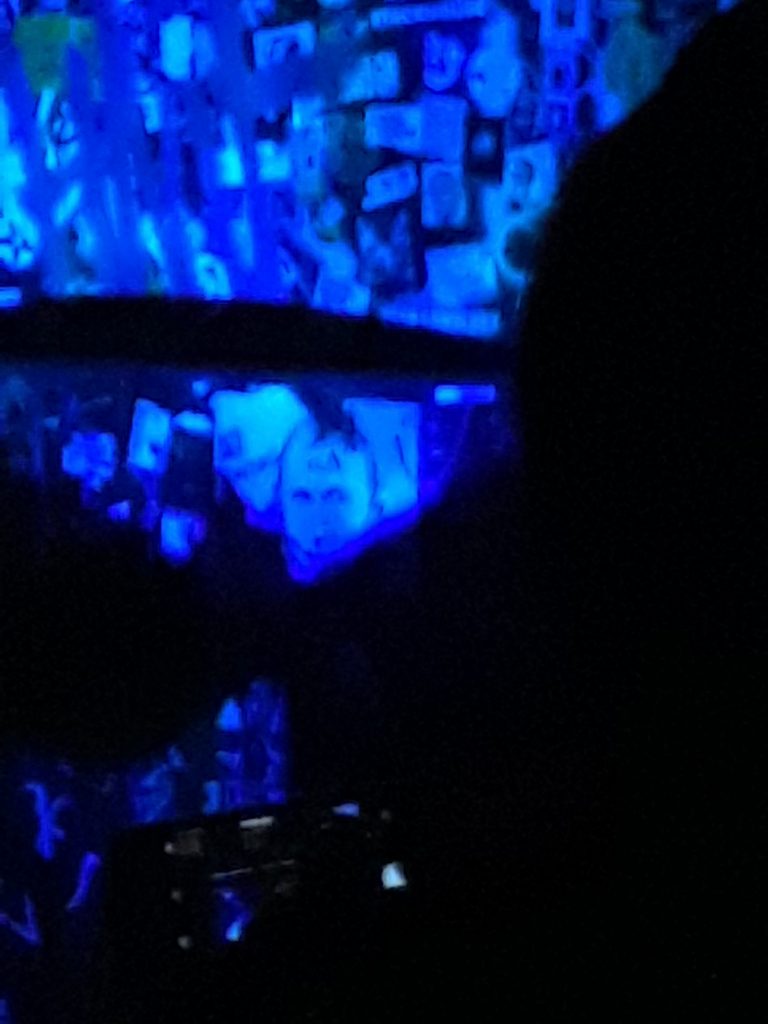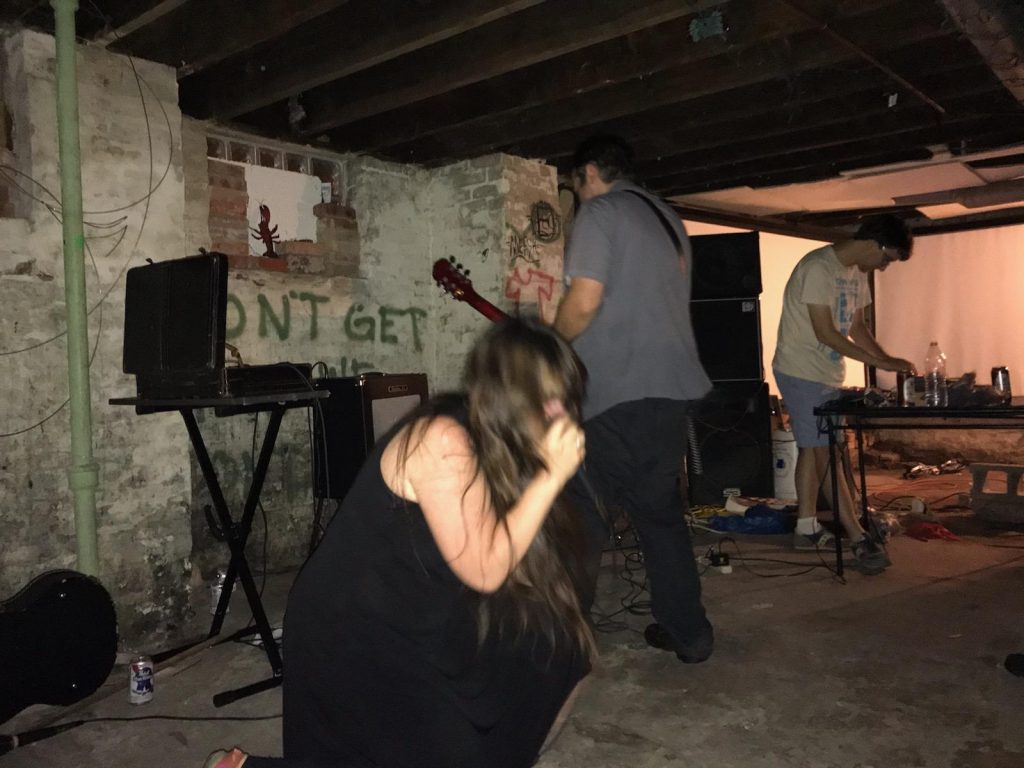 DISCOGRAPHY
solo as Amanda R. Howland
SPIDER, MILK, BATSHIT, SILENCE c20 and digital NO RENT RECORDS 72 April 10, 2018
MONA COST RETURNS TO CANTON cdr CHOCOLATE MONK 402 April 2018
HAINT BLUE c50 ALIEN PASSENGERS 066 May 2017
MOON WORK c20 HERMITAGETAPES October 2016
RED MOTHER cd and Bandcamp TANTRAMOON 07 September 8, 2016
AMANDA R. HOWLAND V FAANGFACE split c30 A SOUNDESIGN RECORDING april 2014
CUYAH LIVER cd TANTRAMOON 03 august 2013
EXALTATION HEAT split with Pauline Lombardo c 60 TANTRAMOON 02 march 2013
TUSCO/EMBASSY CHRISTMAS COMP 2012 cassette "Fainting Uni-HAA – What You Want"
solo as SpacedoG:
STONE AGE HAA, A SOUNDESIGN RECORDING 066, Fall 2010
SPACEDOG, business card series, EVERYONE HAS A RECORD LABEL SO WHY CAN'T I? Spring 2010
Fascist Insect
"Session 3" Gotta Groove Christmas Compilation, 2017
THE EQUINOX SESSIONS, c30, self-released December 3, 2017
"On Wings, With Stains" Gotta Groove Christmas Compilation, 2016
EARTH X, cd-r, self-released October 7, 2016
PARANOID SCHIZOPHRENIC, cd-r, self-released November 2015
"DFND" Gotta Groove Christmas Compilation, 2014
666 CHAMBERS: ENTER THE FASCIST INSECT, cd-r and bandcamp, self-released October 2014
SPECIMEN various artists floppy kick 2014
as guest of Fascist Insect
OHIGHO VOL. 3 cassette compilation SLUDGESICLE RECORDS 2012
PRIMORDIAL BEINGS FROM DIMENSIONS UNKNOWN collaboration with Murderous Vision 12 inch vinyl LIVE BAIT RECORDINGS/BLACK MAGGOT NOISE PRODUCTIONS November 2011
MARCH OF THE FASCIST INSECT cdr BLACK MAGGOT NOISE PRODUCTIONS October 2011
as guest of Murderous Vision
MY NECROPOLIS–contributed vocals and lyrics on "Fire Rabbit" Bandcamp May 2017
TO KNOW HOW IT WILL END — contributed vocals and lyrics on "Turpentine Blood" tape DANVERS STATE RECORDINGS May 2015
BLACK HELLEBORE – A QUIVER OF ARROWS (contributed vocals) cd PHAGE TAPES December 2012
as guest of Tom Orange
STRINGSPACE — lyrics and vocals on "The Strange Things Seen and Unseen" CD February 2016
with Shadows
"Sionis" IN CHIAROSCURO cassette a POLAR ENVY compilation february 2019
SIN/SIONIS cassingle POLAR ENVY 109/SKSK81 february 2019
BRUCE SPILLS THE PILLS cassette POLAR ENVY 105/SKSK 77 february 2018
A DEATH IN THE FAMILY cassette A SOUNDESIGN RECORDING 082 december 2011
Dead Peasant Insurance
(current members: Amanda Howland, Wyatt Howland, Ryan Kuehn, David Russell Stempowski) (Former members: JT Whitfield, Jose Luna, J Guy Laughlin Jr, Bryan Detrow, Nate Scheible)
"Cut a Hole in the Mean Man" cassette ALIEN PASSENGERS 81 November 2018
"Unexcavated Room" bandcamp digital download SKSK October 31, 2017
"Pain in Her Lap 2010" CLEVELAND 2010 NOISE COMPILATION, cd-r, SKSK 71/TANTRAMOON 06, November 2015
CLOCKS IN THE FOREST cd SKSK 70/Tantramoon 5/Everyone Else Has a Record Label So Why Can't I? 76, October 20, 2015
GHOSTS AND ANCESTORS bandcamp digital download SKSK October 31, 2014
HALLOWEEN III bandcamp digital download SKSK October 30, 2013
APHOTIC TRANSMISSIONS VOLUME 1 compilation, remixed October 2013
FOUR-WAY SPLIT WITH GRIEFHOUND, FASCIST INSECT, EXTREME NOISE TERRIER c 60 SELF RELEASED BY THE BANDS april 2013
RITUALS OF THE IRON AGE cdr TANTRAMOON 01 November 2012
2012 AFTER THE FALL OF OHIO cdr split with X Terminal, Fascist Insect, Northern Aggression SELF RELEASED BY THE BANDS september 2012 (ah rk wh jl)
TUSCO/EMBASSY CHRISTMAS COMP 2011 "Giving up the Goat"
OHIGHO VOL. 2 cassette compilation SLUDGESICLE RECORDS 2011
DPI V FI split c30 with FASCIST INSECT on A SOUNDESIGN RECORDING 75 copies march 2011 (ah rk wh jl)
DPI cd BLACK MAGGOT NOISE PRODUCTIONS april 2010 (ah who jgl)
FREEDOM FIGHTERS cdr EEHARLSWCI? 100 copies april 2010 (ah rk wh jgl jose luna)
CLEVELAND SCUM SKULLS cassette PIZZA NIGHT jan 2010
THE KING OF METAL 2xC60 SKSK/EVERYONE ELSE HAS A RECORD LABEL SO WHY CAN'T I? july 2009 100 copies (ah rk jgl wh)
DEAD PEASANT INSURANCE c20 on TUSCO EMBASSY RECORDS march 2009 40 copies (ah jgl rk wh)
ANIMAL NO LIE split w/NOXIOUS CONSENSUS and BEGGING PRIEST recycled cassette released by DREED SQUAP INTENTIONAL DADA in an edition of 15, january 2009 (AH JGL RK WH)
BURNING BUILDING cdr SKSKC033 spring 2007 100 copies (ah wh rk jgl with nate scheible, c randolph c)
HORRIBLE NOISE 5/26/06 cdr SKSKC016 may 2006 20 copies (ah wh rk bd)
LONG PIG cdr SKSKC014 july 2006 100 copies (ah wh rk bd with kyle tremblay, kat stewart)
STARK TECH cdr SKSKC011 summer 2005 30 copies (ah wh)
RESOLUTION C90/cdr SKSKC006 january 2005� 50 copies (ah wh rk bd jon thomas, jeff curtis, kat stewart)
DELIBERATION cassette SKSKC001 spring 2004 20 copies (ah wh with james butters, mike butters)
early comp tracks:
'Live @ ECC' and 'DPI' on 'HITS BELOW THE RUST BELT' COFFEEHUT RECORDS cdr compilation december 2005 (ah rk wh bd)
'UNTITLED' track on 'ASR ARCHIVE SELECTIONS 2003-2009' A SOUNDESIGN RECORDING january 2010 30 copies (wh rk david russell)
Stark Tech
STARK TECH cassette FAIRCHILD RECORDS June 2010
Stark Holy MAA
WORKPLACE VIOLENCE cd TANTRAMOON 4, SKSK 68 September 2015
SONGS FOR SPOOKY benefit cd compilation LIVEBAIT RECORDING FOUNDATION June 2013
APHOTIC TRANSMISSIONS VOLUME 1 compilation, remixed October 2013
GOTTA GROOVE CHRISTMAS COMPILATION December 2013
As album visual artist:
RED MOTHER, solo CD, TANTRAMOON 07, September 2016
CLEVELAND 2010 NOISE COMPILATION, cd-r, SKSK 71/TANTRAMOON 06, November 2015
666 CHAMBERS, ENTER THE FASCIST INSECT, self-released October 2014
CUYAH LIVER, solo CD, TANTRAMOON 03, August 2013
EXALTATION HEAT (art collab with Pauline Lombardo) split with Amanda R Howland and Pauline Lombardo c 60 TANTRAMOON 02 march 2013
RITUALS OF THE IRON AGE, DEAD PEASANT INSURANCE, cd, TANTRAMOON 01, November 2012
FOUR-WAY SPLIT WITH DEAD PEASANT INSURANCE, GRIEFHOUND, FASCIST INSECT EXTREME NOISE TERRIER c 60 SELF RELEASED BY THE BANDS april 2013
PARADIGMS COLLAPSE by FASCIST INSECT self-released for WCSB Radiothon Dec 2011
FASCIST INSECT/DAMAGE DIGITAL SPLIT cassette HORNS & HOOFS RECORDS 2011
DISCIPLINE 3" cdr by FASCIST INSECT released by BLACK MAGGOT NOISE PRODUCTIONS